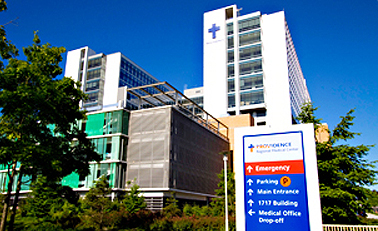 Client Site
We are proud to partner with a regional medical center of great distinction. Please learn more about our affiliation with them below. If you are interested in receiving more information about our services please visit our contact page and make a request.
Providence Regional Medical Center Everett
Providence Regional Medical Center Everett (PRMCE) is an acute care hospital located approximately 45 minutes north of Seattle. PRMCE provides a full range of healthcare services to residents of Snohomish County and Northwest Washington including advanced cancer treatment, heart surgery, chemical dependency treatment, rehabilitation, and women's and children's health.
PRMCE is the region's premier hospital treating more than 20,000 inpatients with the busiest Emergency Department in the state treating approximately 80,000 patients annually. PRMCE is a designated and certified Level II trauma center, with 8 and 9 hour physician and advance practice provider (APP) shifts, 24 hours, 7 days a week.